Subject:
William Petersen
Prompts:
:D and Weird Facial Expressions
Number of Pictures:
16 and 19, respectively
Innocent Bystanders:
Marg Helgenberger, Edward James Olmos, and a glimpse of Gary Dourdan
Notes:
I decided I should take the plunge and try a picspam for

the_friday_spam
, but when I was going through my WP pictures, I couldn't decide what prompt to pick, so I did two! Hopefully that's okay. I tried to adhere to the rules as best as I could, but it was late when I was putting this together, so if I missed something, let me know, and I'll fix it! // Also, most of the pictures come from
GraveshiftCSI
, but a couple come from
the William Petersen Appreciation Page
. The watermarks weren't cropped so I could pretend they're mine---just for space-constraints! // Some of the weird faces are smiles, but they're not regular smiles (he's either looking a little too devious or something) so I included them in the second prompt instead.
( The rest are under the cut )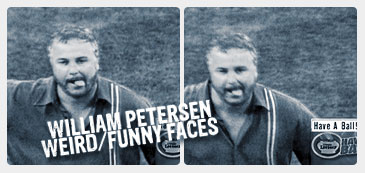 ( The rest are under the cut )